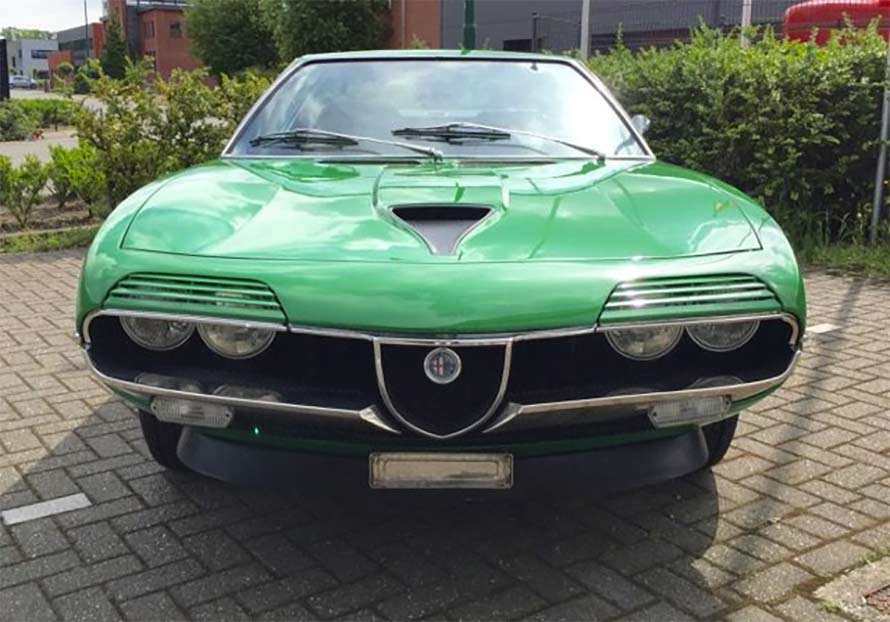 History.
The Alfa Romeo Montreal was launched during the world expo in Montreal in 1969. In total 3900 units are produced between 1971 and 1977. The Montreal is one of the most exotic 2+2 sports cars built by Alfa Romeo designed by Marcello Gandini at Bertone. Stylistically, the most eye catching feature is the car front end with four headlamps partly covered by grilles.  The slats behind the doors (Miura styling) contain the cabin vents, but apart from that only serve cosmetic purposes.
This Car.
This early series 1971 Alfa Romeo Montreal is in outstanding and original condition with 79.000 km documented. Based on a well preserved body the car had one respray in the original "verde viper"and the condition is excellent. Bodywork is straight and rust free, with all the first production series details such as the metal vents.
Dashboard and instruments are impressive and have the look and feel of a real seventies supercar. Seats are refurbished with original olive textile and the interior is in a very good condition with the unmarked wooden Hellebore steering wheel.
The  Spica injected engine was derived from the 2-6l litre V8 used in the Stradale and in the Tipo 33 sports prototype racer. With 200hp and an incredible sound the car performs like a sportscar: 7.6 seconds 0-100 and 220kph top speed. With proper maintenance this type of engine is very reliable and strong. This example is in very healthy mechanical condition and performs outstanding. What a sound and power! One of the fastest Montreal's we have ever driven. The original Campagnolo wheels are in a perfect condition and give the care a nice stance.
Riding the fine line between sports car and grand tourer, the Montreal is one of the most desirable Alfa Romeo's ever made. This is a beautiful and fully documented very fast Montreal.
JAAR VAN DE FABRICAGE: 1971
CHASSIS- / VINNUMMER: –
KLEUR: Viper groen
INTERIEUR: Olive textiel
MOTOR: 2,6 L V8
PRIJS: VERKOCHT