PORSCHE 911 CARRERA 2.7 MFI 1974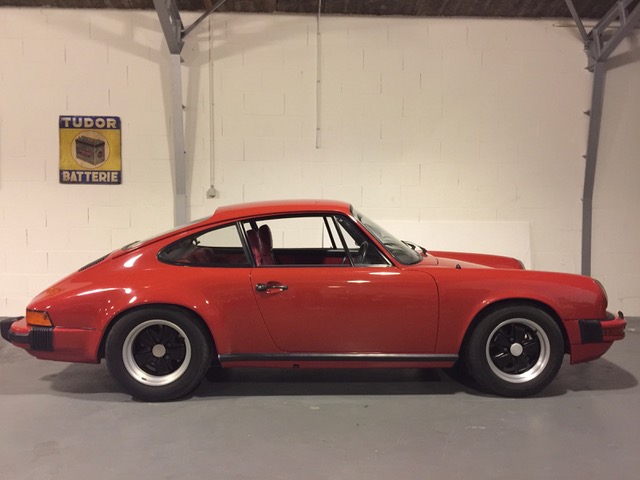 History
The F- model 911 T, E,S and RS  are replaced  in 1973/74 by the G-model 911 (150bhp), 911S (175 bhp) and the 911 Carrera (210 bhp). New cars all have 2.7- litre engines and impact absorbing bumpers to meet the US safety regulations. Compared to other European car manufacturers Porsche succeeded to integrate the absorbing bumpers in a new stylish design.  Top of the range Carrera 2.7 MFI shared the 911/83 engine configuration with the legendary 1973 RS.
Production numbers 911 2.7 Carrera MFI:
1974: coupe 1036 / targa 433
This Car.
This very early 911 2.7 Mfi Carrera in Peru red (042) was delivered to the Italian shoe designer Cesare Pacioti on 2 February 1974. The two owner matching numbers 911 spent most of his life in the north italian "the Marche" region near Ancona and is in outstanding condition with 70.000 km recorded. It's a very well preserved, rust and accident free car which has recently been repainted to the highest standards. The wider Carrera bodywork in the rare color Peru red, optional black trim and the newly introduced 5 spoke black Fuchs (6Jx15 and 7Jx15)) wheels presents beautifully. Paintwork in the engine bay and luggage space is still factory original and show how pure this car is. Interior with red leather seats and red carpets (709) is in as new condition. Dashboard and instruments are unmarked and the original Blaupunkt Bamberg is still in place.
This Carrera 2.7 is mechanically identical to the 1973 RS and is technically extensively serviced with original Porsche parts only. With a weight of only 1075 kg performance is spectacular: 2687cc, Bosch mechanical fuel injection, 210 hp/6300 rpm, 0-100 5.8 sec and a top speed of 230 kp/h.
The car comes with extensive service history and instruction manual.
JAAR VAN DE FABRICAGE: 1974
KLEUR: Peru rood
INTERIEUR: kreeft / berber
PRIJS: € P.O.A